Know your speed limits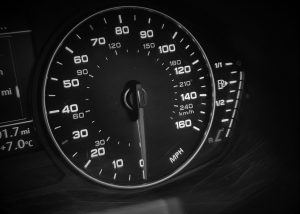 Most drivers believe that they understand speed limits but in reality they have not taken the time to refresh their knowledge since passing their test. For low level first time offenders, a speed awareness course will be offered. This is largely made up of teaching drivers how to identify the speed limits with many admitting that they are in fact lacking in this skill. For those who cannot take the course, making a mistake as to the speed limit can end up with penalty points and possible disqualification.
Speed limits are primarily identified by large red and white signs with the speed identified in black text. For 40 – 60 mph areas, there may be smaller repeater signs along the carriageway as reminders. Some councils will also paint the speed on the ground and include LED boards with optional speed readers.
Where there is no signage, how can you make sure you stay within the law?
Firstly, you should check if there is street lighting. If there is regular lighting and no signage, the speed limit will be 30mph. You will not see any repeater signs in this area.
If there is no street lighting National Speed Limits apply to a single carriageway. For ordinary cars, this will be 60mph. However, for towing vehicles, some caravans, coaches, buses and goods vehicles, this will be reduced to a limit of 50mph. For larger goods vehicles, the limit is 40mph.If there is a dual carriageway – generally defined as having a dividing barrier between the two sides of the road and two sets of kerbs- cars can travel up to 70mph. Lower speed limits apply to those categories outlined above with limits between 50 and 60mph.
On motorways, the limit for cars is 70mph, larger buses and goods vehicles are limited to 60mph. Where there is a smart motorway, the illuminated sign showing a speed within a red circle is compulsory. Many drivers are caught out by this and drive through at much higher speeds when there is no obvious obstruction. As smart motorways are combined with frequent cameras, a motorway is now a very common place for drivers to have been caught speeding.
Speeding offences carry between 3 to 6 penalty points or a lengthy ban if the Court believes that the speed is particularly excessive or dangerous.
If you have received a Notice of Intended Prosecution or have been summoned to Court due to a speeding offence, it is advisable to seek legal advice, especially if you are at risk of disqualification or face a totting up ban. Our team can help you respond to a Notice of Intended Prosecution or Single Justice Procedure Notice and offer a free initial telephone consultation. Call our friendly team today on 01332 987420